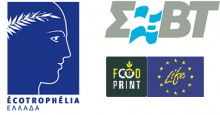 SEVT organizes a Workshop on ECOTROPHELIA Greece Competition 2017 and invites the University students and Proffesors to attend it, in order to:
- get informed for the participation rules applicable to 2017,
- get useful tips for the preparation of a complete and well-documented technical folder as well as for a successful product presentation, and
- listen the experience of student groups who have already participated in the ECOTROPHELIA Europe.
The Workshop will be held on February 10, 2017, at the Hotel Amalia (Av. Vas Amalias 10, Athens 105 57). For more information, please visit SEVT website (www.sevt.gr).
---